Since the spread of Covid-19, the Delta and now Omicron variants, playing opportunities for female hockey players have been dramatically reduced.  We know how frustrating this is for everyone. We all like to play games and keep sharp and compete.
This year's cancellation of the U18 World Championships is especially painful since this is the second year in a row that girls have not had the opportunity to play for their countries. So many dedicated and motivated hockey players will arrive at the end of their eligibility to play at the U18 level and there are limited opportunities for these young women to play at the senior level, at least in the near term.
The flip side of this equation is just as frustrating. University coaches and scouts are also losing opportunities to evaluate players closely and in person. In some cases, they are looking far in the future to try and find younger talented players that they will keep track of. In other situations, they just want to reconfirm their feelings about players, and they want to see them in highly competitive environments. Coaches look at lots of intangible factors like how the player acts on the bench, how she communicates on the ice, what her body language says about her attitude etc. None of these things are able to be seen through video.
Just as challenging as the loss of games is the dramatically reduced opportunity for genuine hockey development. Where can you go where expert coaches use innovative methods and proven advanced training techniques to help you get out of your comfort zone? Just doing the same routine practices day in and day out without measured results doesn't move the needle.
When we first started the CHS Sweden Girls High Performance Camp our goals were simple.
We want to provide an atmosphere where the most highly motivated female players in the world come to train together, to compete with each other and to foster the desire for improvement. We also want to teach North American training methods which many Europeans are unfamiliar with. 
To accomplish this we brought in world renowned skills instructors, including skating experts, stick skills gurus and creative off-ice trainers. Importantly, we also invited high-level college coaches to attend and participate in practices and help us develop a dynamic curriculum. We also made it a two-week-long camp, so it's a serious camp for players really looking to take their games to the next level. There are roughly four hours of on-ice development each day along with two hours of off-ice instruction. It is a rigorous camp done in an atmosphere of fun, mutual respect and camaraderie. We love hockey and it shows!
Today, one of the things college coaches value most in players is hockey IQ. At the CHS Sweden camp, all the daily training is reinforced with nightly games. Small area competition, situational awareness drills and individualized peak-performance instruction are all incorporated into our process.
The college coaches love to come over because it gives them a chance to get to know players up close and personal.  That is why so many coaches return year after year. Not only do they spend extensive time with players on the ice, but they also share meals, give informational sessions and video breakdowns. They really get to know the character of each player. The results have been amazing! An astonishing number of our campers have received offers from U.S. and Canadian schools over the past few years.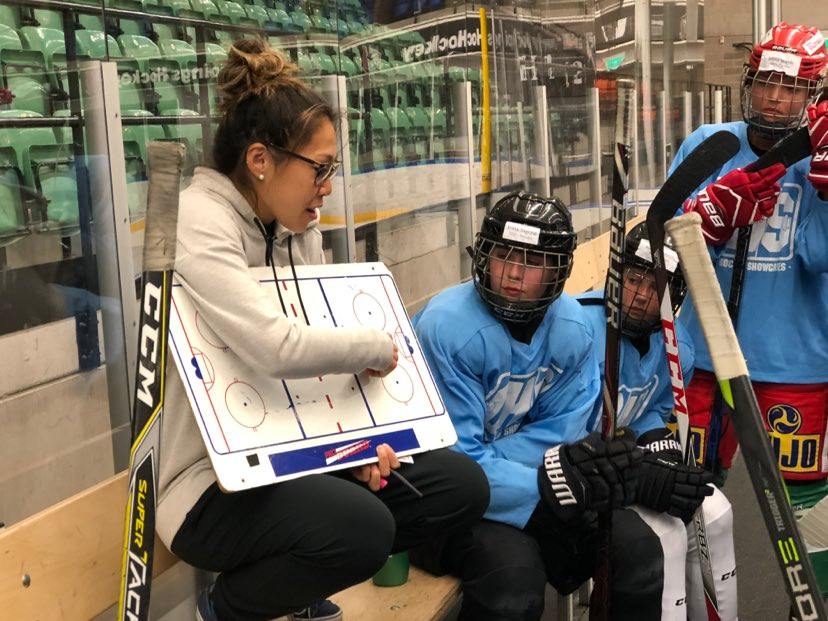 Also, a very high percentage of those players who attend go on to make their national U18 and/or senior national teams immediately following this camp. Players come from so many countries to Nykoping (we had players from 25 countries in 2019), all to be trained and to be with other like-minded female players striving to be their best. They see themselves in the other campers and leave with life-long friends from far away places.
For us at CHS, our Sweden camp has always been a development camp first and foremost. We guarantee that players will improve after two weeks of training and that they themselves will see and feel their improvement. Confidence plays an important part for athletes in any sport. The players who attend the CHS camp leave it knowing that they have taken the necessary steps to get to the next level. Their improvement is our greatest advertisement.